Tennis Club Directors
President
Tammy Meakem

Vice President
Jill Pierce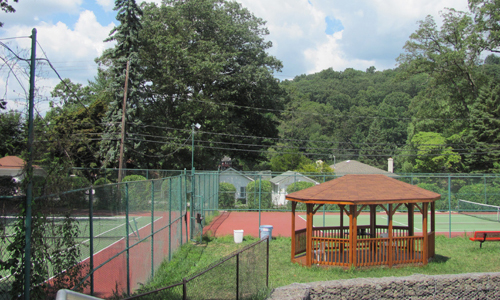 Tennis Courts - July 2010


T-Docks Tennis Courts - 1946
Tennis Club...

The Erskine Lakes tennis courts were constructed in the late 1920's at T-docks (which were located on the main lake across from Valley Road). Approximately 20 years later, in the late 1940's they were torn down and replaced with a softball field. In July 1971, the newly formed Erskine Lakes Tennis Club was created and built two tennis courts at the site they remain today (between Upper Lake & Lakeview Avenue).

In 2009 the Upper Lake dam had been reconstructed, demolishing the original tennis pavilion shed. A new gazebo and shed were erected by the tennis courts for its members.

As of 2010 there are approximately 60 families in the Erskine Lakes Tennis Club.
Tennis Court Rules
• Courts are open year round (weather permitting)

• Entry by key for Erskine Lakes Tennis Club members only
(for application click here)
• Do not climb on court fencing or pull on court nets
• Wear your ELPOA badge on ELPOA property
• No glass containers on courts
• No bikes, scooters wheelies, skateboards, etc. on court surface
• Play begins on the hour, for one hour, if members are waiting to play
• Carry in/carry out - garbage/recycle cans are located at the courts
• Erskine Lakes Tennis Club members who are 18 years and older may bring a guest
(guests cannot be eligible ELPOA members or live within ELPOA boundaries)


Please comply with the rules and help others as well


Tennis Court Application
There is a one time initiation fee of $200.00 to join the Erskine Lakes Tennis Club
Annual Dues are $25.00 (you must be a current ELPOA member)
There is a key fee of $5.00
Please contact the Tennis Club Director for more information or an application
(click here)